NFTs for All. NFT world designed by LINE.
Hello from DOSI team.

Thank you for all the support for DOSI Discord community (https://discord.gg/dosi) has grown by surpassing 155k members.

We would like to introduce the DOSI Community Mini Adventure 8 event for all community contributors.
Don't miss out on the opportunity for community contributors to receive various rewards worth a total of $32,500 over the month, starting from 1,600 Citizen NFT Lv1s up to Blue Chip NFTs worth up to $3,000. Plus, there's a chance to win the DON Rewards this time!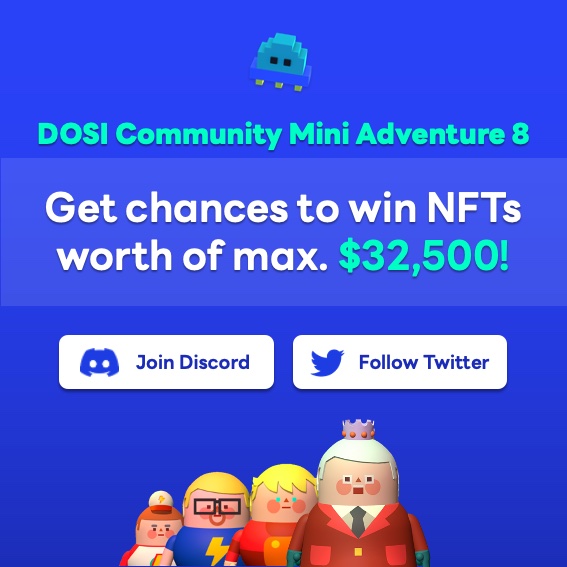 • Period
2023.8.14 09:10 ~ 2023.9.13 09:10(UTC+0)

• Missions
1) Check missions on the Zealy (formerly Crew3) Questboard site(https://zealy.io/c/dosinft/questboard)
2) Achieve the main missions below then you will automatically get Event Pass 8 role on DOSI Discord.
◦ Follow the DOSI Twitter(https://twitter.com/dosi_official)
◦ Join the DOSI Discord(https://discord.gg/dosi)
* Twitter & Discord accounts must be connected to Zealy (formerly Crew3) site.
* Event Pass 8 role refers to a specific role on DOSI Discord to access the event .
3) Go to DOSI Discord with the given Event Pass 8 role and visit #mini-adventure1, #mini-adventure2 . Click the reaction button(firework) everyday to participate in the daily Citizen NFT raffles.
4) Extra mission! You can earn extra XPs and chances of winning ERC-based blue-chip, Klaytn NFTs and DON Rewards by accomplishing additional missions

• Rewards
◦ Citizen NFTs Lv1 (Traveler) will be given out everyday among users with Event Pass 8 role (Total of 1,200 Citizen NFTs, for a month)
▪︎ Basic raffle: 15 Citizen NFT Lv1 (Traveler) will be given out everyday among users who has access to #mini-adventure1 (Discord Lv10+ Role Holder), Total 450 Citizen NFTs
▪︎ Extra raffle: 25 Citizen NFT Lv1(Traveler) will be given out everyday among users who has access to #mini-adventure2 (Citizen Friends Role Holder), Total 750 Citizen NFTs
▪︎ Special raffle:
‣ 20,000 event participants reached: an extra raffle for 40 Citizen NFT Lv1 and one ERC based blue-chip NFT (FP(Floor price) $1,000+) + 3 Klaytn NFTs (FP 35 Klay) will be given out after the event closing.
‣ 40,000 event participants reached: an extra raffle for 200 Citizen NFT Lv1 and one ERC based blue-chip NFT (FP(Floor price) $2,000+) + 6 Klaytn NFTs (3 with FP 35 Klay and 3 FP 150 Klay) will be given out after the event closing.
‣ 60,000 event participants reached: an extra raffle for 400 Citizen NFT Lv1 reward and one ERC based blue-chip NFT (FP(Floor price) $3,000+) + 9 Klaytn NFTs (3 with FP 35 Klay , 3 FP 150 Klay, and 3 FP 330 Klay) will be given out after the event closing.
‣ DON rewards: The top 5 rankers within the Top 1,000 of the Zealy Ranking Board, as well as 5 individuals selected through a draw, will each receive a reward of 17,500 DON.

• Note

1) Event Participation
* Winners selected via the Giveaway boat with Event Winners 8 role during the daily Citizen NFT Lv1 draw can check their Google Form address in the #winner-check .
* Users who purchase Citizen Friends NFTs will be granted the Citizen Friends Role through holder verification and will be eligible to participate in a lottery in a separate #mini-adventure2.
* Winners in #mini-adventure2 can find Google form URL for DOSI Wallet address on #winner-check after the DOSI Community Mini Adventure Event ends.
* Wallet addresses for the rewards will be collected by Google Form.

2) Event Condition
* ERC-based blue-chip, Klaytn NFT and DON will be rewarded only to the Top1000 XP owners on the leaderboard in the Zealy (Formely Crew3) Questboard site(https://zealy.io/c/dosinft/questboard) and duplicate wins are possible.
* The FP of the NFT is determined based on the price on the date of the event announcement posting.
* Citizen NFT Lv1 Winners will be excluded for the next round of Citizen NFT Lv1 raffle. However, Citizen Lv1 raffle winners can also be a winner of Citizen NFT Lv1(when 20k, 40k and 60k participants reached) and ERC-based blue-chip NFTs.
* The number of the event participants equals to Event Pass 8 role counts

3) Lists for Winners to check
* Rewarded users shall take the required responsibility of taxes & public utilities' charge of the countries according to user's residence with direct payment
* Actual blue-chip NFTs and reward schedule will be announced on #mini-adventure in DOSI Discord.
* There is no separate confirmation for Google Form filled information.

4) Exclusion from Winning
* DOSI Community Mini Adventure 8 event is currently unavailable to users located in Japan.
* The reward is limited to DOSI Wallet users, and users must submit their own wallet addresses in the Google Form. Only one NFT reward can be received per Discord account.
* If the Google Form with a valid wallet address is not completed within the given period, you will be excluded from the rewards.
* If you don't submit your Discord ID, or if it is incorrect, you will be excluded from the rewards.
* Inactive users under Discord Lv 10 can be excluded from receiving rewards.
*Even if you have an Event Winner role, if you don't have an Event Pass role, you will be excluded from the rewards.

5) ETC
* Event quests can be added occasionally
* Event participation method is subject to change due to event bot conditions.

New updates will be coming soon, so stay tuned!

Thank you.
DOSI Team