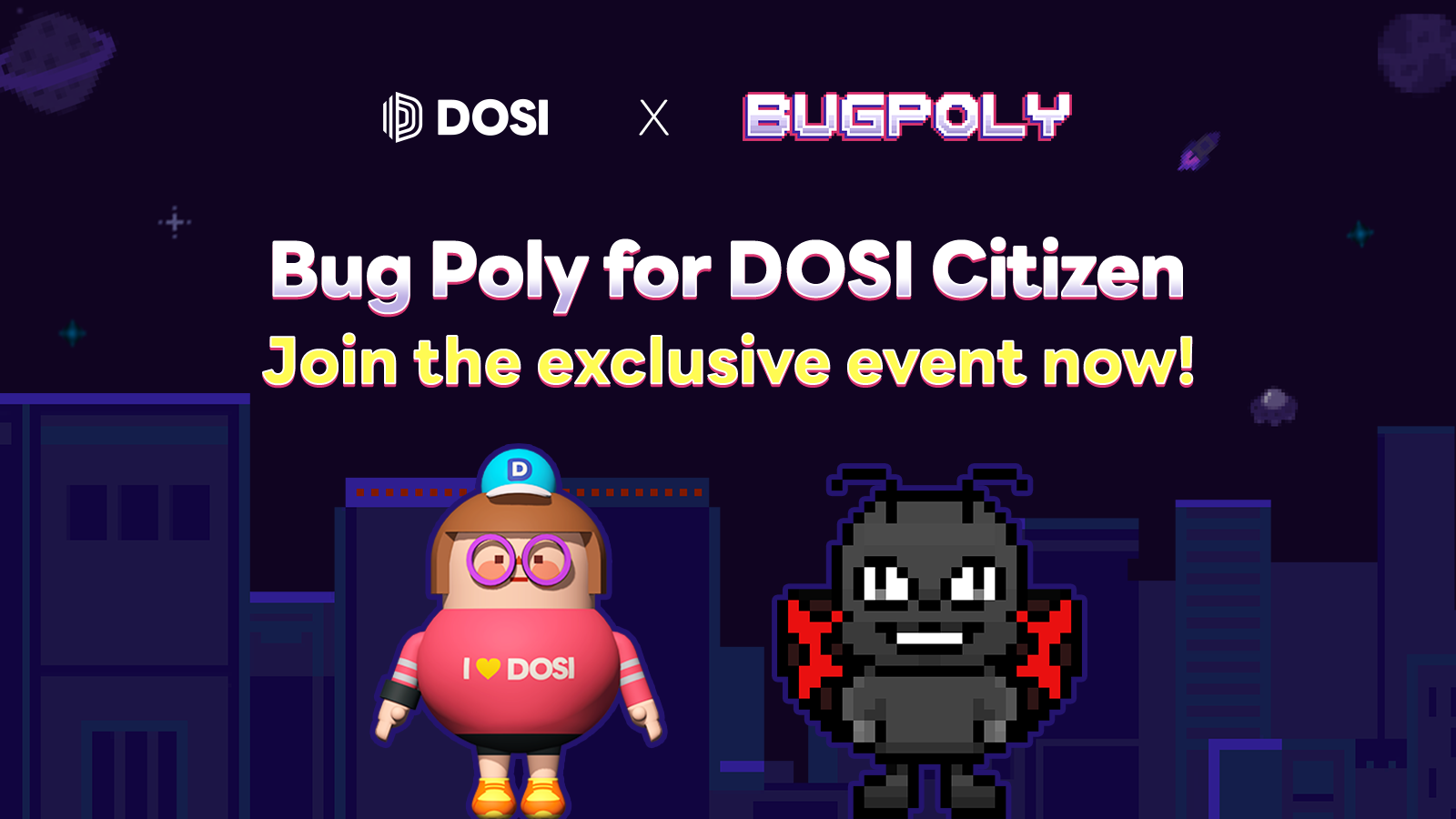 NFTs for All. NFT world designed by LINE.
Hello from DOSI Team.

We are happy to announce that we're holding an event to celebrate the launch of Bug Poly game, developed by Bug Hole, one of the promising web3 companies in Korea. The game play is very similar to monopoly, so anyone can easily have hands on playing it. Bug Poly store will soon to be open to sell game items that will later be used in the Bug Poly so stay tuned!

Go to Bug Poly Discord → https://discord.gg/FnbHG7Ev89

What is Bug Poly?
Bug Poly is a web3 social game developed by Bug Hole, the mastermind of the web3 community, Bug City. Players can either occupy empty lands or take someone else' by attacking those lands. Players will use in-game point called 'cube', to either attack nearby lands or defend theirs. When the game ends, players will get their fair share from the game's stakes based on the number of lands they occupy.

Who is Bug Hole?
Bug Hole is one of the leading web3 team in Korea that has active NFT community, Bug City. Bug City's vision is to establish a web3 empire and create a place for NFT communities from various blockchain ecosystem. Recently it had secured total of 1.6 million dollar seed investment from respectable VCs.

Event Information
This 'Bug Poly in DOSI' event is a 3-round event in which DOSI members can join and play their games. The first round will only be accessible to DOSI Citizen lv.3 and lv.4 holder community, to give them the opportunity to play first. Subsequent rounds are open to public, so anyone who is already a DOSI Discord member and has DOSI Wallet can join. Bug City community will also be joining in the last two games.

If you are a survivor at the end of the game, you will be rewarded with DON. If you finish in top 5, bonus reward will be Citizen NFTs. Please refer to the detail information as below.

- Duration: April 4th ~ 19th
- Total Game Rounds: 3
- Total Prizes:
- 600,000 DON
- 45 Citizen Lv.1 NFTs
- A whitelist* for the first sale of Bug Poly item
- Prizes will be given out to the players on the 21st(The schedule may change, if so we will announce the change)

*whitelist: a list of wallet addresses with priority access to an NFT collection before making it available to the general public.


Round

Time

(UTC+9)

Game Duration

(일)

Eligibility

Prize

(DON)

Prize

(Citizen Lv.1 NFTs)

Prize

(WL)

1st

4/4 21:00 ~

4/7 20:59

72h

(3 days)

Citizen Lv.3 or Lv.4 Holder

200,000

15

User who played at least once

2nd

4/11 21:00 ~

4/14 20:59

72h

(3 days)

DOSI member

200,000

15

Survivor who finishes with 5 lands or more

3rd

4/17 15:00 ~

4/19 14:59

48h

(2 days)

DOSI member

200,000

15

Survivor who finishes with 5 lands or more

Total

600,000

45

-

Game Tips
1. Get as many lands as you can, fast.
2. Getting that land can be easy, holding it can be quiet tricky.
3. There will be a meteor shower once in every hour, if your land is hit, the impacted land will be lost and becomes empty. So be on the lookout for your property once in a while.
4. Out of cubes to attack or defend? Go to 'tweet-mining' channel and follow the instructions to get additional community points, B-DON, the currency to exchange for cubes.
5. Still need more information? Check out the guide(https://lin.ee/bbn3FCz/qbko), or ask other fellow players in the forum.

Lastly..(Note)
- Events are held in the Bug Poly Discord Server(https://discord.gg/FnbHG7Ev89), so please keep in mind that you have to join the server to join the games or get timely announcements.
- Bug Poly team will share the link to the game 5 minutes prior to its start. Use the link provided to get the appropriate Discord role to enter the active game channel.
- You need to connect your Discord account to play 'Bug Poly in DOSI'. Please don't change your Discord username if you want to be added in the list of recipients.
- 1st round is for DOSI Citizen lv.3 or lv.4 holders.
- Citizen lv.1 NFTs will be given to top 5 players in each game. 1st place will get 5 NFTs, the 2nd will get 4, and the 5th place will receive 1 Citizen lv.1 NFT.
- You will need to get your DOSI account verified and join DOSI Citizen Store(https://citizen.dosi.world/) in advance, to successfully receive your prizes.
- For those who get whitelisted can see the tag in their DOSI Wallet page.
- We will check if there are fraudulent users in the list of recipients before finalizing it.
- All prizes will be rewarded out one the day after the last day of the event, you will hear from us shortly after the event ends, if there are some minor changes.

Thank you.
DOSI Team