NFTs for All. NFT world designed by LINE.
Hello from DOSI Team.

Thanks to the interest and participation of the DOSI user, the DOSI social community channels (Twitter/Discord) are on the verge of reaching 100,000 followers.

We appreciate the support and affection shown by the DOSI users not only for the DOSI platform but also for the DOSI social community channels. To further our growth, we are excited to announce 'Let's support DOSI's Social Channels with friends! DOSI Twitter & Discord Channel NFT Jackpot Giveaway Event!'.

We are planning events through the DOSI Twitter and Discord channels, and depending on the participation achievements, we will provide a total of over $19,000 + worth of NFT prizes, including up to 1,000 Citizen NFTs (Lv1), 10 BeerGang NFTs, 10 Citizen Cat NFTs, and $2,000 worth of ERC bluechip NFTs. We would greatly appreciate your enthusiastic participation in this event.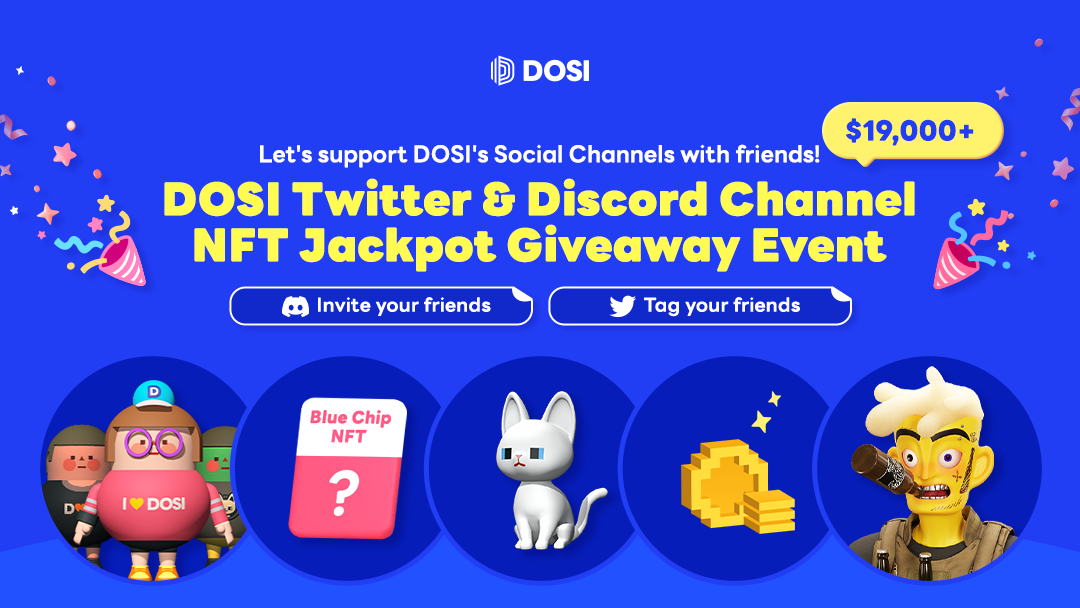 1. DOSI Twitter Channel Event

- Event Period: 06:00, March 23, 2023 ~ 03:00, April 03, 2023 (UTC)

- How to Participate
1. Follow DOSI's Twitter account (https://twitter.com/DOSI_official)
2. Retweet (RT) DOSI's Twitter support content → (https://lin.ee/ietxwPM/qbko)
3. Please tag a friend while quoting the original post
4. Fill out and submit the participation Google form for the event → (https://lin.ee/j5BL6Jj/qbko)

- Prize
DOSI Twitter follower count
NFT Prize

Over 100K

- Citizen NFT (Lv1) (100ea)
- BeerGang NFT (5ea)
- Citizen Cat (+150 DON) NFT (1ea)

Over 110K

- Citizen NFT (Lv1) (200ea)
- BeerGang NFT (5ea)
- Citizen Cat (+150 DON) NFT (2ea)


Over 120K

- Citizen NFT (Lv1) (300ea)




- BeerGang NFT (5ea)




- Citizen Cat (+150/150/210 DON) NFT (3ea)

Over 130K

- Citizen NFT (Lv1) (400ea)




- BeerGang NFT (5ea)




- Citizen Cat (+150/150/210/240 DON) NFT (4ea)

Over 140K

- Citizen NFT (Lv1) (500ea)




- BeerGang NFT (5ea)




- Citizen Cat (+150/150/210/240/270 DON) NFT (5ea)

※Based on the number of DOSI Twitter account followers at 2023.04.03 03:00 (UTC).

Prize drawing method: A random draw will be conducted among the users who have completed event participation and submitted the Google Form (*Duplicate wins not allowed)
The announcement of the event winners and the schedule for prize airdrops will be announced separately after the event ends

2. DOSI Discord channel event

- Event Period: 06:00, March 23, 2023 ~ 03:00, April 03, 2023 (UTC)
- How to Participate
1. Connect to the Crew3 Questboard channel in the DOSI Discord Channel Mini Adventure event → (https://dosinft.crew3.xyz/questboard)
2. Achieve the two mandatory missions below and automatically acquire the Event Pass 4 role in the DOSI Discord channel (*Only users who have been granted the EVENT PASS 4 role can participate in the event)
- Mission 1: Follow DOSI Twitter (https://twitter.com/dosi_official)
- Mission 2: Join and connect to DOSI Discord channel (https://discord.gg/dosi)
3. Complete the mission of inviting friends through Crew3 Questboard (#DOSI) (3/15/30 or more friend invites).
4. Fill out and submit the participation Google form for the event → (https://lin.ee/jRMbU7T/qbko)

- Prize
Prize draw for users who have met the following conditions
Condition
Number of winners
NFT Prize

Invite 30 or more friends

5

- Random draw of 5 BeerGang NFTs to be awarded

Invite 15 or more friends

5

- Random draw of 5 Citizen Cat (+150/150/210/240/270 DON) NFTs to be awarded

Invite 3 or more friends

500

- Random draw of 500 Citizen NFTs (Lv1) to be awarded




- 100DON (distributed to all participants)

※The event snapshot will be taken at 03:00 (UTC) on April 3, 2023.

Prize drawing method: A random draw will be conducted among the users who have completed event participation and submitted the Google Form (*Duplicate winnings are possible depending on whether the conditions for each stage have been met)
The announcement of the event winners and the schedule for prize airdrops will be announced separately after the event ends

3. 1 ERC Blue Chip NFT for users who have participated in both DOSI Twitter and Discord channel events

- Event Period: 06:00, March 23, 2023 ~ 03:00, April 03, 2023 (UTC)

- How to Participate
1. Complete DOSI Twitter channel event (*Google Form submission required)
2. Complete DOSI Discord channel event (*Invited 3 or more friends & Google Form submission required)

- Prize
| | | |
| --- | --- | --- |
| Number of users who have participated in both DOSI Twitter and DOSI Discord channel events | Number of winners | NFT Prize |
| 5,000 or more | 1 | $1,000 worth of ERC blue chip NFTs |
| 10,000 or more | 1 | $1,000 worth of ERC blue chip NFTs |

※Based on the number of participants at 2023.04.03 03:00 (UTC).

Prize drawing method: A random draw will be conducted among the users who have completed event participation and submitted the Google Form
The announcement of the event winners and the schedule for prize airdrops will be announced separately after the event ends

Notice for Event

*Accurate information is required including DOSI Wallet address when filling out the Google Form. The accurate information submission and completion of the Google Form are necessary for the transfer of the event prize NFT in case of winning.
*Membership to the DOSI Citizen Store is required to receive DON point prizes.
*NFT prizes will only be given to DOSI Wallet users who have completed SMS authentication within DOSI Wallet.
*For the ERC Blue Chip NFT 1 giveaway event, the information (DOSI Wallet address) submitted on the Google Form for the DOSI Twitter and Discord channel events must be the same.
*The DOSI Citizen (Lv1) given in the DOSI Twitter/Discord event will be airdropped among 1,000 different DOSI Citizens that have been randomly generated with 8 different parts
*In the case of the winner of the event prize (NFT, DON, ERC Blue Chip NFT), if they are identified as fraudulent users, the award may be canceled and the prize may not be paid.
*The DOSI Discord event allows for duplicate NFT prize winnings at each level, depending on the number of completed friend invites.
*The NFT prize for DOSI Twitter/Discord events and the ERC-based Blue Chip NFT prize can be duplicated through a random drawing.
*The Event Pass 4 role obtained through the basic mission within the DOSI Discord channel may disappear if the user leaves the DOSI Discord channel.
*The winner of the event prize is solely responsible for using, receiving, and storing the NFT, as well as any investment, profit and loss, tax, and expenses associated with it.
*The winner of the prize is fully responsible for tax reporting and payment related to the prize NFT.
*Detailed information about the winner, prize payment, etc. will only be notified through the DOSI Home announcement, so users must check the DOSI Home announcement and agree to its contents by participating in this event.
*Suspicious accounts suspected of supporting multiple accounts may be excluded from the event without notice.
*The contents of this event may change or end without prior notice due to the company's circumstances.

Your participation is greatly appreciated and we hope to see many of our DOSI users take part in the event!

Thank you.
DOSI Team